FIFA WORLD CUP 2014 - Some Bold Predictions!
Team to go all the way: Germany
Image Source:
https://twitter.com/DFB_Team/media
Germany may not be a common choice, with a lot of people supporting Messi & therefore Argentina and then there is the whole world backing Brazil, because they play at home!!
But put down the team line ups and it would be apparent that the star studded German line up has what it would take to lift the Ultimate Prize.
But the story does not end at the strong line up. It is much more than that. lets look into a few other compelling reasons:
1. Form of players: Most players in the German line up play as first teamers in top European Clubs, mainly Bayern & Dortmund of Germany. Now the Bundesliga may not be the most watched league in the world but then these two teams have been breaking a lot of ground in European cups too! Further these teams are making all the right noises because of their very players. Most players have been at the peak of their forms!
Image Source:
http://www.sportsmole.co.uk/football/bayern-munich/champions-league/news/blatter-praises-bundesliga_94442.html
2. Coach: Joachim Low may not have the credentials of a Felipe Scolari or a van Gaal, but he surely has the tactics to beat the likes of England in World Cup 2010 & Portugal in 2014, both by big margins (vs Eng: 4-1 & vs Por 4-0)! Low prefers flowing football, but unlike the Spanish, its not tiki taka. The style is more direct with long passes and the team also is a great threat on counter attacks! With a strong tactical bent of mind, Low can put Germany on par even the likes of Italy in tactical superiority.
Image Source:
http://www.cam111.com/photonews/2012/06/14/146194.html
3. Right mix of Youth & Experience: The team boasts of experienced professionals like Phillip Lahm and Manuel Neuer as well as exciting youth like Mario Gotze and the relatively young Thomas Muller. Look at the whole team line up and this fact is amplified.
Image Source:
http://it-blogger.net/post/Klose-Reus-Lahm-Neuer-Podolski-und-Oezil-Wallpaper-zur-Fussball-WM-2014.aspx
4. Cohesion in the team: Since most of the players are from the top two German teams, they understand each other pretty well and this makes it easier for them to gel well. This is a very important factor for teams fighting in the World Cup, a fact well exposed by Argentina in 2010. Even with a strong team on paper, the Argentinians could not gel pretty well and therefore could not even get the best out of the then in form Messi!
Image Source: http://fanclub.dfb.de/index.php?id=610
5. Strong Substitutes for each position: This fact can well be a differentiator for Germany. With a strong first team line up, Germany also boasts of a super strong bench! Name a first team player and you will find his perfect replacement on the bench. When the likes of Schweinsteiger, Klose & Podolski do not even start a big game like the one vs Portugal (2014), you know what kind of quality the team has even on bench. Forget bench, they have not even taken the future Barca keeper (Ter Stegen) to the World Cup!
Image Source: http://www.zimbio.com/pictures/d3Biht5bdkV/Germany+v+Portugal+Group+G+2014+FIFA+World/NaxkboY1Q-R/Miroslav+Klose
The above five points are the biggest strengths of Die Mannschaft which make it the team to beat at World Cup 2014.
Risks
: Given all the rosy picture of the German team in Brazil, it does not mean the team faces no risks. The one biggest problem that the fans of Die Nationalmannschaft fear is its choking in big games. History has ample evidence that Germany fail at the crucial moments. So to take the World Cup home this time, the Germans will have to ensure they take care of this folly that has haunted them enough!
Image Source: http://www.nationalturk.com/en/germany-vs-italy-euro-2012-highlights-video-germany-fails-in-favourite-role-match-fixing-scandal-years-boost-italy-to-finals-20535
-----------------------------------------
Golden Boot Winner: Thomas Muller
This may sound too bold a prediction, but so it is!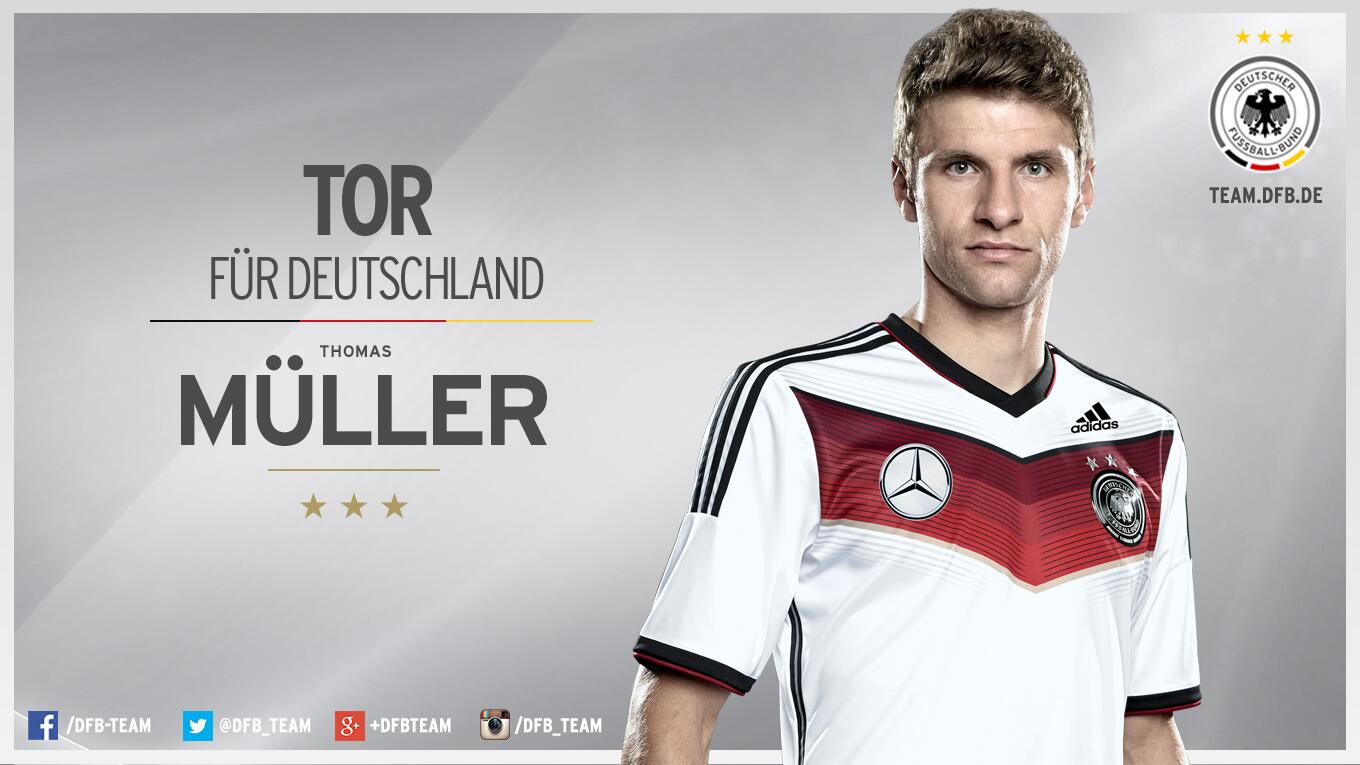 Image Source: https://twitter.com/DFB_Team/media
Already bring the top scorer in 2010, if Muller can top the scoring charts again in 2014 then he will be the first person to repeat the feat in a World Cup ever!
Though we have the likes of Ronaldo, Messi & Neymar competing for this prize, it is not so much about an individual as it may seem to be. What could Messi do in 2010 without the support of his team?
Ronaldo has faced a similar problem and all the more, the sooner a team walks out of the tournament, the lesser are the chances for their Star Player to bag this prize.
The debate then would be that Messi & Neymar's teams can goo all the way and in the process allow the two stars to go on goal scoring sprees!
Image Source:
http://www.emirates247.com/sports/fifa-world-cup/who-will-shine-brightest-in-fifa-world-cup-brazil-messi-neymar-or-ronaldo-2014-06-11-1.552436
So then what is it that makes Muller even a competitor for this trophy?
Probably his simplicity! But more so his instincts. There is some reason why he prefers to call himself the
Raumdeuter
or "interpreter of space". He more often than not drifts into in the right place at the right time. And to top this super skill he keeps things simple and therefore leaves less chances for goof ups! Further, with the likes of Kroos, Gotze and Ozil around him, he is assured of chances being created from every corner of the final third of the pitch. The pre-requisites for a striker to become a top scorer are therefore naturally fulfilled, which therefore makes Muller one of the most eligible candidates for this top individual prize!
Image Source: http://www.fanpop.com/clubs/thomas-muller/images/13900895/title/thomas-muller-co-photo
Don't be surprised if on 14th July 2014 newspapers across the world have the headline: "Germany Win the World Cup"!!!
Image Source: http://www.ilgiornale.it/news/sport/silvio-gazzaniga-pap-coppa-mondo-oggi-vincono-solo-i-soldi-847591.html
Time will tell how true the above predictions turn out to be. So lets leave that aside for the time being and sit back and enjoy the thrilling World Cup that has got off to a Flying Start!
.